Recently I heard a very well known, highly respected lawyer pleading with our nation (United States) to turn back to God, and put God in His rightful place of authority in government, the judicial systems, and our way of life.
Here is an eloquent quote from this person who is one of the top lawyers in our nation. They are experienced and highly credentialed, and a valiant voice in fighting corruption in the Department of Justice (as recorded and posted December 29, 2021): "We need to bring the country back to God! God designed this country. We are founded upon Judeo-Christian principles. We are entitled to be a Judeo-Christian country. We need to get back to that, and until we return God to His rightful place in this country we're gonna have more problems then we can shake a stick at. Our priorities are wrong. We've got to get God back where He belongs in our daily lives and in our country!"
WORLD-WIDE DEVASTATION BECAUSE MANY NATIONS DO NOT TRULY FEAR THE LORD
One of the primary reasons so much of the world is in the kind of mess it's in today — because of a LACK OF THE FEAR OF THE LORD!
GOD'S WAYS ARE HIGHER THAN MAN'S WAYS
The proper, right way to teach the FEAR OF THE LORD is through His Word. All Scripture is helpful to instruct us in His ways. "All Scripture is given by the inspiration of God… (2 Timothy 3:16,17). God's ways are higher than our ways, and HIs thoughts higher than our thoughts.
Isaiah 55:9 – "For as the heavens are higher than the earth, So are My ways higher than your ways, And My thoughts than your thoughts.
ISAIAH 29:13-16
Therefore the Lord said: "Inasmuch as these people draw near with their mouths and honor Me with their lips, but have removed their hearts far from Me,
And their FEAR TOWARD ME is taught by the commandment of men, 14 Therefore, behold, I will again do a marvelous work among this people, a marvelous work and a wonder; for the wisdom of their wise men shall perish,
and the understanding of their prudent men shall be hidden." 15 Woe to those who seek deep to hide their counsel far from the Lord, and their works are in the dark; They say, "Who sees us?" and, "Who knows us?" 16 Surely you have things turned around! Shall the potter be esteemed as the clay; For shall the thing made say of him who made it, "He did not make me"? Or shall the thing formed say of him who formed it,"He has no understanding"?
FEARING THE LORD IS VERY IMPORTANT
The following verses from Isaiah 8 are some fresh "rhema" verses that we have been emphasizing over and over, recently…
ISAIAH 8:10-14
(a prophetic word from the Lord) "…Call your councils of war (enemy), but they will be worthless. Develop your strategies, but they will not succeed. For God is with us (people of God)!" 11) The Lord has said to me in the strongest terms: "Do not think like everyone else does. 12) Do not be afraid that some plan conceived behind closed doors will be the end of you.13) DO NOT FEAR ANYTHING EXCEPT THE LORD ALMIGHTY. He alone is the Holy One. If you FEAR HIM, you need fear nothing else. 14) HE WILL KEEP YOU SAFE…
THE LORD DELIGHTS IN THOSE THAT FEAR HIM
We have been created for God's pleasure (Revelation 4:11). When we FEAR HIM, we are fulfilling one of the purposes we were created!
Psalm 147:11 – The Lord takes pleasure in those who FEAR HIM,
In those who hope in His mercy.
Revelation 4:11 – You are worthy, O Lord, to receive glory and honor and power: for you have created all things, and for your pleasure they are and were created.
GLOBAL IMPACT
Psalm 33:8 – Let all the earth FEAR THE LORD: let all the inhabitants of the world STAND IN AWE of him.
THE GOSPEL INCLUDES EMPHASIS ON THE FEAR OF THE LORD
The first emphasis with the everlasting gospel to be shared in these last days is — FEAR GOD!
Revelation 14:6-7 – I saw another angel fly in the midst of heaven, having the EVERLASTING GOSPEL to preach unto them that dwell on the earth, and to every nation, and kindred, and tongue, and people, Saying with a loud voice, FEAR GOD, and give glory to him; for the hour of his judgment is come: and worship him that made heaven, and earth, and the sea, and the fountains of waters.
PREACH THE GOSPEL
Matthew 24:14 – And this GOSPEL of the kingdom shall be preached in all the world for a witness unto all nations; and then shall the end come.
Mark 13:10 – …the GOSPEL must first be published among all nations… (before the end comes, the good news must be preached to all nations).
Mark 16:15 – And He said to them, "Go into all the world and PREACH THE GOSPEL to every creature (all creation/ the whole human race/everyone in the world).
JESUS IS SOVEREIGN IN THE EARTH
Matthew 28:18-20 – And JESUS came and spoke to them, saying, "All authority has been given to Me in heaven and on earth. (Jesus is SOVEREIGN!)
Sovereignty refers to dominant power or SUPREME AUTHORITY. The Sovereign is the one who exercises power without limitation. It often describes someone who has supreme power or authority, they have power over themselves; their government is under their own control…
THE GREAT COMMISSION INCLUDES TEACHING ABOUT THE FEAR OF GOD
Matthew 28:19-20 (Cont) – Go therefore and make disciples of all the nations, (Teach all nations) baptizing them in the name of the Father and of the Son and of the Holy Spirit, 20 TEACHING them to observe all things that I have commanded you; and lo, I am with you always, even to the end of the age."
Acts 10:34-35 -Then Peter opened his mouth and said (to Cornelius household): …in every nation WHOEVER FEARS HIM and works righteousness is accepted by Him.
Isaiah 2:2-3 – Now it shall come to pass in the latter days that the mountain of the Lord's house shall be established on the top of the mountains, And shall be exalted above the hills; And all nations shall flow to it. Many people shall come and say, "Come, and let us go up to the mountain of the Lord, To the house of the God of Jacob; He will TEACH us His ways, and we shall walk in His paths."
Psalm 86:11-13 – Teach me Your way, O Lord; I will walk in Your truth; Unite my heart TO FEAR YOUR NAME. 12 I will praise You, O Lord my God, with all my heart, And I will glorify Your name forevermore…
A LESSON FROM LIONS
2 Kings 17:25 – …at the beginning of their dwelling there, that they did NOT fear the Lord; therefore the Lord sent LIONS among them, which killed some of them…
2 Kings 17:28 – Then one of the priests whom they had carried away from Samaria came and dwelt in Bethel, and taught them how they shouldFEAR THE LORD.
A lack of the FEAR OF THE LORD can bring devastating results! Do we need lions to teach us how important it is to FEAR THE LORD, or can we learn our lessons from the Word of God? We might not physically experience the terror of lions, but there are many other devastating results can and do happen due to the lack of THE FEAR OF THE LORD!
THE KINGS WERE TO DAILY SPEND TIME IN GOD'S WORD TO LEARN TO FEAR THE LORD
Deuteronomy 17:18-20 – "Also it shall be, when he (the king) sits on the throne of his kingdom, that he shall write for himself a copy of this law in a book, … 19 And it shall be with him, and he shall read it all the days of his life, that he may learn TO FEAR THE LORD his God. and be careful to observe all the words of this law and these statutes, 20 that his heart may not be lifted above his brethren, that he may not turn aside from the commandment to the right hand or to the left, and that he may prolong his days in his kingdom, …
SUMMARY / CONCLUSION OF IT ALL
When it is all said and done, our legacy and what is noteworthy about our life should be that we were a God-fearing person that honored and glorified the Lord, and kept His commandments!
Ecclesiastes 12:13 – Let us hear the conclusion of the whole matter: FEAR GOD and keep His commandments, for this is the whole duty of man.
THE FEAR OF GOD IS COMMANDED!
Jesus and His disciples taught the FEAR OF GOD!
I Peter 2:17 – FEAR GOD!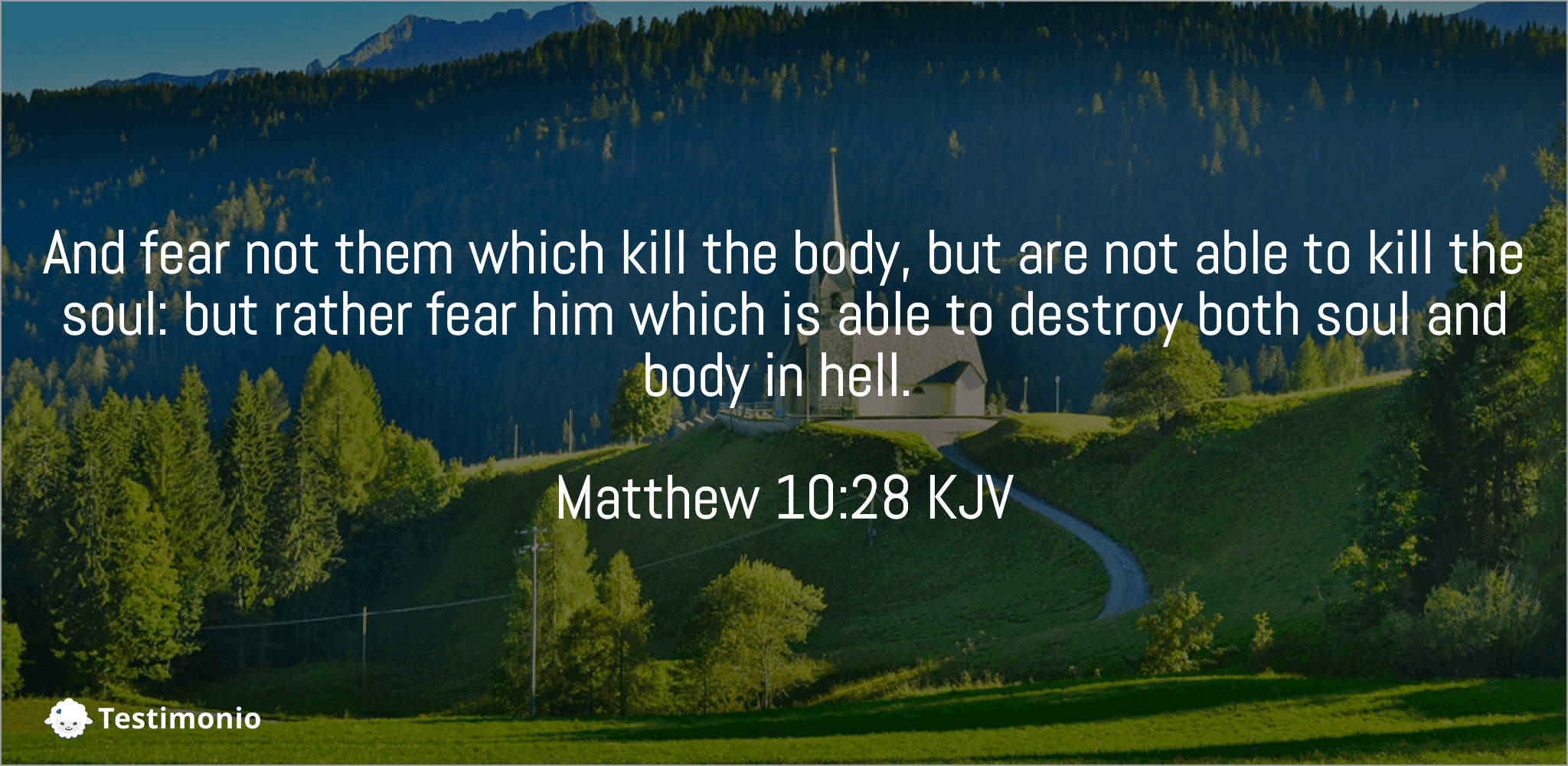 God has the power to destroy both the body and the soul in hell! When we walk in the FEAR OF GOD we can be delivered from eternal judgment and the destruction of hell! Jesus came to rescue us, and save us from hell! The devil is out to "kill, steal, and destroy" & the punishment and destination for him and his followers is hell – but Jesus came to bring abundant (the very best) life! (John 10:10)
DEFINITION OF THE FEAR OF THE LORD
A proper and awesome reverence and respect towards God, knowing that He rewards the obedient, and punishes the disobedient.
THE UNRIGHTEOUS AND SINNERS
Romans 3:18 – "There is NO FEAR OF GOD before their eyes."
Romans 1:18-25– For the wrath of God is revealed from heaven against all ungodliness and unrighteousness of men, who suppress the truth in unrighteousness, 19 because what may be known of God is manifest in them, for God has shown it to them. 20 For since the creation of the world His invisible attributes are clearly seen, being understood by the things that are made, even His eternal power and Godhead, so that they are without excuse, 21 because, although they knew God, they did not glorify Him as God, nor were thankful, but became futile in their thoughts, and their foolish hearts were darkened… Professing to be wise, they became fools, 23 and changed the glory of the incorruptible God into an image made like corruptible man—and birds and four-footed animals and creeping things…who exchanged the truth of God for the lie, and worshiped and served the creature rather than the CREATOR…
WORSHIP
We must come before God with a focus on His greatness. Let's not worship Him with a casual attitude. He is GREAT, and greatly to be praised (Psalm 48:1-2)!
OUR AWESOME CREATOR
As we grow in the FEAR OF GOD, let's recognize His FINGERPRINTS and the greatness of our ALMIGHTY GOD!
Psalm 8:1-4 – O Lord, our Lord, how excellent is Your name in all the earth… Who have set Your glory above the heavens! … 3) When I consider Your heavens, the work of Your FINGERS, the moon and the stars, which You have ordained, 4) WHAT IS MAN that You are mindful of him…?
GOD'S "FINGERPRINTS"
A 'fingerprint' is an impression or mark made on a surface by someone's fingertip, especially as used for identifying individuals from the unique pattern. No one else in the world has the exact same set of ridges and lines – everyone has uniquely personal fingertips… Fingerprints stay the same from the time you're born until death. Their uniqueness and lasting quality make fingerprints one of the best ways to identify someone.
When Psalm 8 talks about the workmanship of God's "fingers", that is a very interesting way to describe His works! We can see the unique pattern of the Lord's creative 'fingerprint' genius over and over again in all of HIs majestic works!
AT THE CRUCIFIXION
Matthew 27:54 – So when the centurion and those with him, who were guarding Jesus, saw the earthquake and the things that had happened, THEY FEARED GREATLY, saying, "Truly this was the Son of God!"
HEALING OF THE PARALYTIC
Luke 5:26 – And they were all amazed, and they glorified God and WERE FILLED WITH FEAR, saying, "We have seen strange things today!"
JOB'S ENCOUNTER WITH GOD
In Job 38-41 the Lord reminds Job of some of His CREATIVE WORKS –- — earth; stars; sea; clouds; snow; waters; lightning and thunder; rain; herbs; dew; ice; constellations; wisdom and understanding; dust; goats; donkeys; peacocks; horses; hawks; eagles; hippopotamus; etc…
Job 42:2-6 – "I know that You can do everything, and that no purpose of Yours can be withheld from You… I have heard of You by the hearing of the ear, but now my eye sees You. Therefore I abhor (despise / loathe) myself, and repent in dust and ashes."
Job was humbled as he saw the greatness of Almighty God, in comparison to his frail humanity, and humbled himself in repentance and self-abasement before the Lord.
OUR ALMIGHTY CREATOR
He is the Almighty CREATOR OF THE UNIVERSE! We need to come before Him with REVERENCE and honor His Great and Holy Name.
ALL THINGS ARE POSSIBLE WITH GOD
Mark 10:27 – But Jesus looked at them and said, "With men it is impossible, but not with God; for with God ALL THINGS ARE POSSIBLE."
Jeremiah 32:17-19,26-27 – 'Ah, Lord God! Behold, You have made the heavens and the earth by Your great power and outstretched arm. There is NOTHING TOO HARD for You. 18 You show lovingkindness to thousands,…—the Great, the Mighty God, whose name is the Lord of hosts. 19 You are great in counsel and mighty in work, for Your eyes are open to all the ways of the sons of men, to give everyone according to his ways and according to the fruit of his doings… 26 Then the word of the Lord came to Jeremiah, saying, 27 "Behold, I AM THE LORD, the God of all flesh. Is there ANYTHING TOO HARD FOR ME?
Jeremiah had a revelation of God Almighty, and knew that nothing was too difficult for Him to do. What about us? The Lord is revealing Himself to us as well, and is asking us the question — Is there ANYTHING TOO HARD FOR ME? (What is your answer?)
A FEW OF THE MANY CREATIVE WONDERS
FISH
There are multitudes of different kinds of fish. There is a great variety of sizes, shapes, and colors. There are many beautiful tropical fish here in the Philippines. One of my favorite things to do here is to snorkel over coral reefs, and to view the many brilliant, colorful kinds of fish. It is like seeing a new, fascinating world! It's an awesome experience!
Fish at the bottom of the sea, are especially designed to withstand the extreme pressure and atmospheric weight on them – 30,000 lbs. of atmospheric pressure (15 tons) pressing on them from every direction! Amazing!
INSECTS
Even littlest Insects can withstand their proportion of atmospheric pressure (14 lbs. per sq. inch).
BEES
When bees crawl into pollen filled blossoms, their breathing apparatus gets all stuffed up with pollen. But –- every bee has a special brush located on its knees. It is a stiff brush that it uses to clean out its breathing apparatus, so it doesn't suffocate. WOW!
THE FEAR OF THE LORD IS A REQUIREMENT
A requirement from the Lord is that we FEAR HIM Just like God hates sin, we are also instructed to hate evil. The FEAR OF THE LORD helps us to overcome sin, and temptation.
Deuteronomy 10:12-13 – And now, Israel, what does the Lord your God REQUIRE of you, but to FEAR THE LORD your God, to walk in all His ways and to love Him, …to serve the Lord your God with all your heart and with all your soul, 13 and to keep the commandments of the Lord and His statutes which I command you today for your good?
God is awe-inspiring. He wants the best for you, so He has provided a way that you can keep on the right track that leads to abundant and eternal life, and not get destroyed.
Jesus Christ is a good shepherd. A good shepherd understands how to can keep their sheep safe. He protects us from evil. He is with us always, providing a way of safety and protection if we will wisely take heed to it.
Deuteronomy 8:6 – …you shall keep the commandments of the Lord your God, to walk in His ways and to FEAR HIM.
GOD IS GREATLY TO BE FEARED
Psalm 89:7 – GOD IS GREATLY TO BE FEARED in the assembly of the saints, and to be had in reverence of all them that are about him.
Psalm 119:11 – … holy and REVEREND is his name.
Godly fear is not torment, but a holy reverence for God, knowing that He is totally righteous, and full of mercy and truth! It is an appreciation for Him and all of His glorious and holy attributes.
God has not given us the spirit of fear (2 Timothy 1:7). There is a great difference between being scared, and having a healthy, respectful regard for something, or someone. People are often scared when they are guilty and have something to hide, as seen with Adam and Eve in the garden after they had sinned.
Psalm 4:4 – STAND IN AWE, and sin not: commune with your own heart upon your bed, and be still. Selah. Tremble in awe before the Lord, and do not sin against him. (TPT)
THE FEAR OF THE LORD CAN KEEP US FROM EVIL
FALLEN MINISTER'S TESTIMONY
A famous minister fell into sin, and was imprisoned, … according to his own testimony – "he loved Jesus, but HE DIDN'T FEAR GOD" – "He was not the supreme authority in my life"…!
HATNG EVIL DEMONSTRATES THE FEAR OF THE LORD
Proverbs 8:13 – "The FEAR OF THE LORD is to hate evil; Pride and arrogance and the evil way, and the perverse mouth I hate." (WISDOM — Jesus is made unto us wisdom,…I Corinthians 1:30).
BE HUMBLE
Micah 6:8 – He has shown you, O man, what is good; And what does the Lord REQUIRE of you but to do justly, to love mercy, and to walk humbly with your God?
BLASHPEMOUS MAN
Many years ago I heard about a man (which I understand to be a true story) who arrogantly blasphemed against the Lord. He mocked in unbelief before others raising his fist toward heaven, saying defiantly and sarcastically, "if there is a God, strike me dead right now"!
When nothing seemed to happen immediately he continued scoffing, and laughing, and scornfully blaspheming God, saying to by-standers – "See, God isn't real"!
Not long after that when people were around him, they began to smell a terrible stench. Then they saw worms crawling out of his body! It's hard to even imagine the terrible, dreadful death that he soon experienced – eaten by worms because of his foolishness!
God will not be mocked! Whatsoever a man sows, that he will also reap (Galatians 6:7). We can be sure that peoples sins will find them out! (Numbers 32:23)
We need to humbly, and carefully live in the FEAR OF GOD!
BLESSINGS / CURSINGS
BLESSINGS
God wants us to FEAR THE LORD, and He promises us that if we do, His blessings will rest upon us!
Psalm 115:12-13 – The Lord has been mindful of us; He will bless us; …13 He will bless those who FEAR THE LORD, both small and great.
The abundant blessings we desire and talk about are connected with, and dependent upon living in the FEAR OF GOD!
CURSES
Those who do NOT FEAR THE LORD will be in torment and not experience the Lord's abundant blessings!
Deuteronomy 28:58-59 – "If you do not carefully observe all the words of this law that are written in this book, that you may FEAR THIS GLORIOUS AND AWESOME NAME, THE LORD YOUR GOD, then the Lord will bring upon you and your descendants extraordinary plagues—great and prolonged plagues—and serious and prolonged sicknesses."
What do you choose?
IT IS A CHOICE
Joshua 24:14-15 – "Now therefore, FEAR THE LORD, serve Him in sincerity and in truth, and put away the gods which your fathers served… Serve the Lord! 15 And if it seems evil to you to serve the Lord, CHOOSE for yourselves this day whom you will serve,… as for me and my house, we will serve the Lord."
Ananias and Saphira
When Ananias and Saphira lied to the Holy Spirit they were destroyed by the Lord.
Acts 5:1-11 – …11) So GREAT FEAR came upon all the church and upon all who heard these things.
NEBUCHADNEZAR
Daniel 4 – King Nebuchadnezar's pride / The Lord humbled him
King Nebuchadnezar learned that he wasn't such a hot shot after all. God was greater and mightier! He was disposed from His great kingdom. When he came back to his senses he was reinstated to the throne. Here is part of his story from his own testimony…
Daniel 4: 2-3,17,37 – "I thought it good to declare the signs and wonders that the Most High God has worked for me.3 How great are His signs, And how mighty His wonders! His kingdom is an everlasting kingdom, And His dominion is from generation to generation."… in order that the living may know that the Most High rules in the kingdom of men… Now I, Nebuchadnezzar, praise and extol and honor the King of heaven, all of whose works are truth, and His ways justice. And those who walk in pride He is able to put down.
THE FEAR OF GOD IN THE EARLY CHURCH
A good, healthy respect for the Lord was experienced in the early church.
Acts 9:31 – Then the churches throughout all Judea, Galilee, and Samaria had peace and were edified.And walking in the FEAR OF THE LORD and in the comfort of the Holy Spirit, they were multiplied.
Acts 2:43 – … FEAR came upon every soul. (Peter's preaching to those gathered on the day of Pentecost produced the fear of God!)
FAILED RELATIONSHIPS
MAINTAINING AN INTIMATE RELATIONSHIP WITH GOD is very important to keep from falling away from God and backsliding!
GOD WANTS US TO KNOW HIM INTIMATELY
Proverbs 1:7 – The FEAR OF THE LORD is the beginning of knowledge… (it is the beginning of the knowledge of God).
Proverbs 9:10 The FEAR OF THE LORD is the beginning of wisdom: and the knowledge of the holy is understanding.
Proverbs 2:1-5 – My son, if you receive my words, and treasure my commands within you, 2 So that you incline your ear to wisdom, and apply your heart to understanding; 3 Yes, if you cry out for discernment, and lift up your voice for understanding,4 If you seek her as silver, and search for her as for hidden treasures; 5 THEN you will understand the fear of the Lord, and find the knowledge of God.
A failed relationship often happens when someone stops attending gatherings of worship, reading the Bible, praying and seeking God. Soon the FEAR OF GOD in their life dissipates and they are more easily drawn into sin.
PsalM 25:14 – The secret of the Lord is with those who FEAR HIM!
John 15:14 – You are my friends if you obey me (JESUS).
AN INTIMATE RELATIONSHIP WITH GOD
"If you FEAR GOD, that's the beginning of an intimate relationship with Him! (John Bevere)1
2 Corinthians 6:14-16 – …what fellowship has righteousness with lawlessness? And what fellowship has light with darkness? …16 And what agreement has the temple of God with idols? For you are the temple of the living God. As God has said: "I will dwell in them and walk among them. I will be their God, and they shall be My people."
PROPHETICALLY THE LORD PROMISES to do THIS GLOBALLY
HABAKKUK 2:14; ISAIAH 11:9
…the earth shall be filled with the KNOWLEDGE of the glory of the Lord, as the waters cover the sea.
Since the FEAR OF THE LORD is the beginning of knowledge, we know that the FEAR OF THE LORD is part of His plan for world-wide glory!
PRAYER
Psalm 86:11-12 – Teach me Your way, O Lord; I will walk in Your truth; Unite my heart to FEAR YOUR NAME…
Like the Psalmist may our prayer be:" as you teach me your way (THE WAY OF THE FEAR OF THE LORD), I choose to walk in your truth and to whole-heartedly FEAR YOUR NAME!
FAITH DECLARATION
"I CHOOSE TO FEAR THE LORD AND KEEP HIS COMMANDMENTS!"
—-
Special acknowledgement and thanks to John Bevere and his message "The Fear of the Lord"- (Session 1; ISOM resource -Trimester 1) for His insightful emphasis about the fear of the Lord being the pathway to an intimate relationship with God .